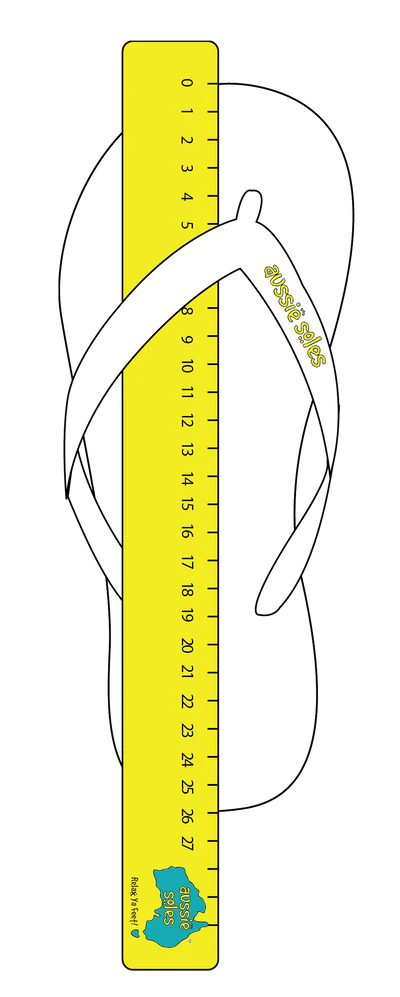 Whats My Perfect Fit?
So, you've done your research and have finally settled on your favourite pair of Aussie Soles.
You've scrolled through Aussianas, Starfish Orthotics, Indy's and have even found a couple of pairs for the kids. You're spoiled for choice when it comes to colour yet you know you've picked the one that will go with every outfit! Now, what about size? How can you be sure that you're selecting your perfect fit, especially if you're not able to try your Aussie Soles on first? With our trusty size chart, that's how! You'll notice when you add a product to your cart that both EU and AU sizes are displayed clearly, but if you would like more detailed measurements to be absolutely sure, you can find them outlined in the size chart. Each of our Aussie Soles products including the Starfish range (adults, children and youth), Aussiana's, Indy's and the Comfort range are listed in the size chart below.
KIDS STARFISH
US
EURO
MM
6
21
140
7
22
147
8
23
154
9
25
161
10
26
168
11
27
175
12
29
182
13
30
189
1
31
196
2
32
203
3
33
210
4
34
217
5
35
224
STARFISH RANGES
EU
US
MM
37
6
244
38
7
251
39
8
258
40
8.5
263
41
L9/M8
270
42
L10/M9
277
43
M10
284
44
M11
291
45
M12
298
46
M13
305
47
M14
312
SNUGGS SIZES
EU
US
MM
37
6
244
38
7
251
39
8
258
40
8.5
263
41
L9/M8
270
42
L10/M9
277
43
M10
284
44
M11
291
45
M12
298
46
M13
305
47
M14
312
INDYS 2.5 SLIDES
EU
US
MM
37
6
244
38
7
251
39
8
258
40
8.5
263
41
L9/M8
270
42
L10/M9
277
43
L11/M10/43
284